When:
February 18, 2017
all-day
2017-02-18T00:00:00-05:00
2017-02-19T00:00:00-05:00
Where:
Cranaleith Retreat Center
Philadelphia
PA
Just Be, Just Breathe: Reclaiming True Self, Finding Sanctuary: A Series of One-Day Courage & Renewal® Retreat
Cranaleith Retreat Center, Philadelphia, PA
February through December 2017
Based on the work of Parker J. Palmer and the Center for Courage & Renewal®, this retreat combines both an opportunity to explore what matters most to you and to savor rest and renewal. Reflect on issues of transition, vocation, life passion, purpose, meaning, direction, aging, re lationships, and underlying life patterns, to live in alignment with your deepest values and the courage to act with integrity and authenticity. In a safe, quiet, nurturing, and confidential environment, this retreat promotes trust, reflection, clarity and insight. Prioritize your self-care and develop practices that support you. Restore body, mind, and spirit for greater calm, clarity, insight, and energy while connecting with others.
This Retreat is Designed Just for You…
Are you seeking rest and renewal, a time set-aside just for you from the busyness of daily stress?
Are you asking yourself: 'What's next?' And, do you want the space to reflect and to listen to your own inner wisdom?
Are you seeking support in building ongoing practices that help you integrate your deepest intentions into your life and work?
Are you curious about how to bring more trust and courage into your life?
What People Are Saying:
"…profoundly moved to a deeper level of "getting it"".
"It is an amazing spiritual journey where you can learn more about yourself and experience the capacity of love of humanity.  It's life changing and uplifting."
"The program helped me go beyond what I thought I was seeking and give clarity to my questions."
"It was marvelous!  You must do this for yourself."
Our Venue…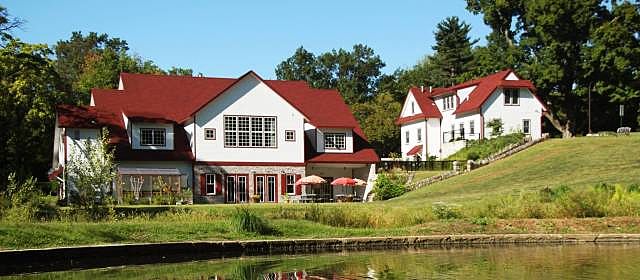 Cranaleith Spiritual Retreat Center, an oasis of natural beauty, a 'Sanctuary of Trees', and a place to 'get-away-from-it-all', is located in Philadelphia, and is easily accessible by mass transit.  Focused on promoting health and well being, Cranaleith serves nutritionally balanced meals with a sense of joy and good taste.
Details & Registration
Cost:  $195.00 per person, per retreat. Attend one or the entire series.  Sign up for all four retreat dates, and take $25.00 off the price of each retreat.  Payment in full is required to secure your place in the retreat.  See our Cancellation Policy for details.
Cost includes:
• Light breakfast, gourmet lunch, and refreshments
• Retreat facilitation
• All retreat materials
• Day use of Cranaleith Spiritual Center grounds
How to Register: Please fill out the registration form and submit with payment as instructed on the form.
Participation:  The retreat minimum is 8 people.  The retreat maximum is 15 people.  Early registration is encouraged.
Cancellation Information: All cancellations must be made in writing. No refunds will be issued due to late arrival, early departure, or any unused portion of the retreat. The Assumption of Risk / Liability Waiver form must be signed and completed upon registration. Cancellations received 30 days or less prior to retreat start date, no refund is permitted.  Cancellations prior to this will receive a refund of 50% of the cost of the retreat.  Lead Smart Coaching, LLC reserves the right to change, modify, or cancel the retreat prior to the start for any reason, including lack of participants or acts of nature and/or circumstances beyond our control. In this case, any payments received will be refunded in full, and this will constitute full settlement.  Lead Smart Coaching, LLC is not responsible for any additional expenses due to a cancelled retreat, such as the purchase of non-refundable airline tickets.  Lead Smart Coaching, LLC reserves the right to accept, refuse, or decline any participation at any time for any reason of any person. In such a case, Lead Smart Coaching, LLC liability is limited to the actual cost of the unused services.
Dates/Time:
Saturday, February 18, 2017
Saturday, June 3, 2017
Saturday, December 2, 2017
Each retreat begins at 8:30 am and ends at 4:30 pm. 
Register Here: Registration Form